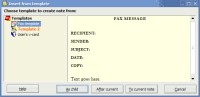 The Templates dialog allows you to insert the new note copying the content from chosen template.
There are several useful macros that can be used in note template name and autoumatically replaced with the information like current date and time, note descendancy level, etc.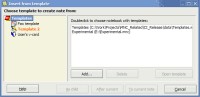 You may create your own templates easily. They're stored in an ordinary MNC-notebook. Just select the notebook first item in templates dialog and press 'Open template' button. The notebook will be opened in My Notes Center main window, so you'll be able to edit it as usual.